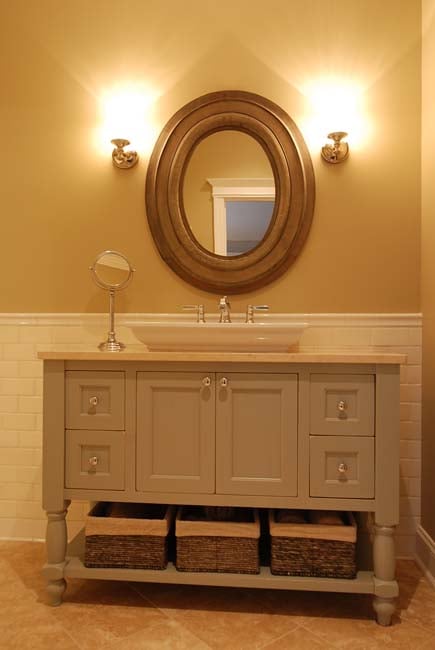 Powder rooms offer an opportunity to pack a powerful design punch in a small space. If you are planning to remodel your powder room, we recommend choosing a vanity and sink that makes a statement. There are so many different sink designs to choose from and the right selections will help to add style and interest to your design.
Here are some powder room sink ideas for your Chicago bathroom remodeling project.
Pedestal sinks. Pedestal sinks are particular powder room favorites because they are space savers. They are also recommended if you are using wallpaper, wood paneling or wainscoting, tile work, etc., because they allow the wall decoration to be wrapped continually with only a small penetration for the plumbing.
There are a multitude of pedestal sinks out there from the traditional white porcelain versions to reproduction antiques with embellishments and four legs. They can also come in ultra-modern and customized designs made of wrought-iron, wood pedestals and other materials that can make them works of art in their own right. Let your bathroom designer know how stylized you want your pedestal to be.
Sink and vanity combos. You can also use a sink and vanity combination, which is space saving and creates a perfect balance of looks and function. For traditional powder room designs, search for furniture-style vanities with a pre-installed sink. If you prefer a more modern look, sleek glass vanity and sinks will do the trick, and the translucent glass will provide the illusion of even more space.
Wall-mounted sinks. In most powder room designs, there's no need for a lot of cabinet space, which is one of the reasons you are able to get so creative with your sinks. A wall-mounted sink alleviates the need for a vanity altogether. They are made in a wide range of sizes and shapes, and most have just enough of a lip or shelf to accommodate a soap dish, a candle, or a small vase with a flower. Because these sinks don't have a vanity to create visual interest, you can let the faucet fixture be the accent for you. Similar to pedestal sinks, this option also allows you to show off decorative wall coverings.
Vessel sinks. Another popular powder room sink option is the vessel sink. While there are plenty of vessel sinks on the market, ranging from translucent or colored glass to pounded metal, you can also transform just about any favorite bowl or ceramic piece into a vessel sink. As long as the material is waterproof, your plumber can drill the right size hole in the bottom and voila! With a few attachments, it can be connected to the plumbing and become a well-draining sink. These are great to add on top of a small pedestal because the curved shape of the sink allows room on the conservatively-sized vanity for soap or a folded hand towel.
For professional bathroom remodeling assistance in Chicago, contact Kitchens & Baths Unlimited.