Kitchen remodeling is all about opening up space, rethinking your original designs, and replacing older, bulkier appliances with slim, sleek, functional new ones. When you're selecting a new refrigerator, you've got a lot of options and we are hoping that this post helps you work through your options when trying to choose the best refrigerators available. Do you go for a built-in wall unit, a free-standing model, an under-cabinet or a counter-depth model? What kind of finish do you want? Are you looking for any particular amenities?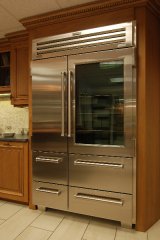 Refrigerators are a long-term appliance: you won't be replacing these any time soon. You've got to go with something that provides the function you need, and fits into the space you've designed for it. Your remodeling floor plans will have to leave ample room for a refrigerator unit of some kind, but knowing all the different configurations and styles available can give you ideas for choosing the best refrigerators to fit your needs and space.
First And Foremost: Does Your Kitchen Present Any Limitations?
You have to be conscious of your whole house when buying a fridge. Small front door? Will your fridge have to travel up steps? Does your kitchen remodel leave enough empty space for the size fridge you want? Our design and construction experts know the old saying from experience: measure twice, cut once. You'll want to thoroughly measure every space your fridge has to move around, and every centimeter of space it will take up in your kitchen.
Once you've got those vital details taken care of, you can start shopping based on size.
Choosing the Right Refrigerator for You
After you've taken careful measurements, it's time to look at the possibilities. You can choose from standard refrigerator/freezer units, or go for something more unique.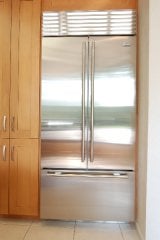 "All-refrigerator" models feature no freezer whatsoever, while traditional Top and Bottom Freezer models include a freezer separate from the fridge.
Side-by-Sides split space up evenly between fridge and freezer, and French Door models feature two smaller refrigerator compartments and a third freezer section.
Under-Cabinet units are small fridge drawers that sit under your countertops. Small capacity, but excellent space-savers and add-on units.
Cabinet Depth refrigerators aren't as deep as traditional fridges, and are designed to fit flush with your kitchen cabinets.
Free-standing fridges need their own floor space, whereas built-in refrigerators disappear into the wall, if you have the space.
You'll need to look at door hinge placement as well: if you don't have room in your kitchen for a side by side fridge that opens to the left and the right, that's out of the question. Some doors can have their hinges swapped from side to side for added convenience. Be sure to look into what your kitchen's floor plan can handle before buying!
Make Sure your Refrigerator Capacity Fits Your Needs
Door placement and number of fridge/freezer compartments is entirely up to you and your functional and space-utilizing needs. Overall storage space is the next vital step. If you buy a fridge that's too small, you'll constantly have trouble fitting all your groceries and perishables in their place. If you buy a fridge that's too large, it will either sit empty, or accumulate old, expired food easily; and the unnecessary extra capacity will have an impact on your electric bill.
14 cubic feet of storage space is usually adequate for a family of four. Spare fridges, drink chillers, and secondary units can be as small as 11 cubic feet or less. Families larger than four, or anyone that has a vegetable garden, might find that an 18 to 22 cubic foot fridge will best fit their needs.
Finishing Tips: Choosing Your Trimmings
The outside of your fridge is just as important as the inside. You can opt for wood paneling to match your cabinets, or choose a stainless steel finish to compliment the other appliances and sleek features of your new kitchen. If you're choosing a built-in refrigerator, you'll have the most flexibility and unique opportunity for alternate finishes.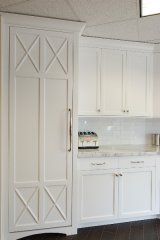 If stainless steel isn't your thing, you can opt for wood paneling that matches your cabinet coloring. Painted metal is also an option: professional finishes by the manufacturer, another vendor, or our own talented design crew can match your cabinet colors with your fridge's paneling. Other playful materials for creative types and anyone with children include chalkboard and corkboard paneling, which will give your kitchen space a bit of creative flare.
We hope this gives you a better idea as to how to shop for your new refrigerator! As always, if you have any questions or concerns, our professional kitchen designers are happy to serve our neighbors and friends across the greater Chicago area.