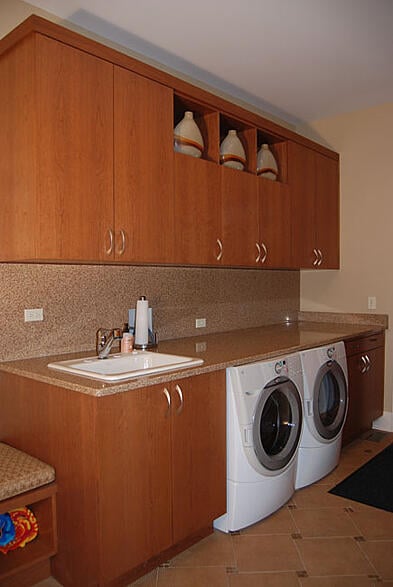 If you think the bathroom is important, then think about all the time you spend doing the laundry! In fact, did you know that the average American spends more time in their laundry room than they do the bathroom? So why not invest in making it a pleasant and efficient place to be? If you're out of laundry room ideas for renovations or don't know where to start, we have a few suggestions for you.
Creative – and Practical – Laundry Room Ideas
Task lighting. Similar to countertop lighting in the kitchen, task lighting provides light to a specific area, allowing you to perform any task (such as folding clothes) better. With so many things to do in the laundry room, the options for task lighting are limitless.


Utility sink. Having a deep sink in your laundry room makes sense for many reasons. For instance, say the kids come home with their soccer uniforms caked in mud. Instead of simply throwing the clothes in the wash, you'll certainly want to rinse most of the excess mud off!


Hanging racks. There are some clothes that dry better hung or are too sensitive for the dryer. Including a place to dry clothes is one of the most practical laundry room ideas that homeowners overlook.


Varying heights for countertops. If you're going to invest in countertops where you can wash or fold clothes, then you should have each one custom designed in terms of height so you can more effectively manage the laundry. This is one of the best personalized laundry room ideas for those who have a lot of laundry to do.


Overhead storage cabinetry. Whether it's laundry detergent or extra toilet paper for around the house, there are a plethora of items you can store in the laundry room – just make sure you have a place to store them.


Sewing drawer. We all hate it when a button falls off our pants or favorite shirt. Be sure that you're prepared to handle any clothing emergency with a sewing drawer. This is one of the most sensible and practical laundry room ideas.


Retractable ironing board. Instead of having to unfold an ironing board every time you want to iron, why not have a retractable one installed into your wall?


Home office with custom desk. If you're like many homeowners, then you might find yourself preferring to leave your mail in the laundry room instead of bringing it into the kitchen and cluttering the rest of the house. So why not build a home office with a desk so you can open and respond to the mail?


Pull-out or built-in laundry bins. The options and features for use are as limitless as your imagination. For instance, having built-in bins to throw dirty clothes into instead of casting them on the floor can make for a better kept laundry room until "laundry day". You can get as creative as you want with these laundry room ideas!


Encase the washer and dryer for additional counter space. If you have a washer and dryer that open on the side instead of the top, have them enclosed to create additional counter top space. There's plenty of room for efficiency.