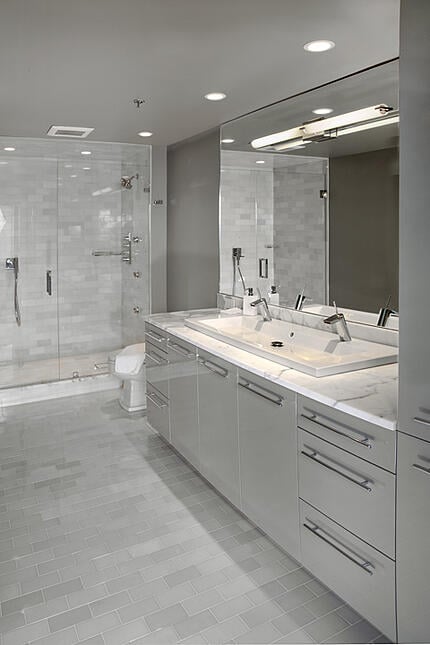 "Should it stay or should it go?" This is often one of the hardest parts about planning a bathroom remodel. Then there are questions regarding aesthetics, function and flow - all of which must be in balance. Finally, it's good to think about what life will be like, in terms of maintenance, once the construction crew finishes and you're left with your gorgeous new bathroom.
For that reason, we've assembled a "Cheat Sheet" for you to run through. Bring your answers when you schedule a consultation with a Chicago kitchen remodeler and your initial consultation will move much more efficiently.
5 Considerations For Your North Shore Bathroom Remodel
Should we keep the vanity/toilet/sink/faucets? In most cases, the answer to this is, "no!" Here's why: your existing vanity or other finishes may look spiffy now, but once you've gone and repainted, replaced and re-styled the rest of your bathroom, it will look like like the odd-man-out. The only exceptions are if you have a relatively new home and are changing things to suit your style, rather than to replace an outdated bathroom, in which case a faucet here or a toilet there may look fine when the rest of it is redone.


Should we switch this bath/shower combo to a closed-in shower? If you have a bath elsewhere, "Yes!" Your newly remodeled, tiled-in enclosed shower area will increase resale value. Use things like

a steam shower upgrade

or innovative shower faucet combinations to make your shower space every bit as relaxing as a tub. Plus, all that tile work will look gorgeous.


What's the first thing you see when you look in the bathroom? If it's a toilet or a shower, you may want to consider changing your bathroom's layout. The first view should be pleasing, so that means moving the toilet elsewhere. If the shower is front and center, you risk an embarrassing situation if a guest is barged in on while using showering. In most cases, layout changes here and there can be accommodated.


Does our idea for the bathroom match the rest of our home? While every room in your home can have its own personality, ideally you want your interior design to be somewhat continuous throughout the home. Try to create a bathroom plan that uses the same style and color themes that you've used throughout the rest of your house so it is a complement rather than a detractor.


What will it take to maintain this? There's are reasons why large shower tiles and certain finishes are recommended for the bathroom - maintenance and cleaning. If you have your heart set on marble, look for a quartz or granite countertop that mimics marble but doesn't require annual sealing and can handle your morning coffee cup without a worry. Do you feel like sealing and scrubbing grout on a bi-monthly basis? If not, consider

using larger tiles wherever possible

and saving mosaic tiles for smaller areas or areas where mold/staining are less of an issue.
Schedule your consultation with Kitchens & Baths Unlimited to ensure your bathroom remodeling plans take all the details into consideration - including the long view - before you make any permanent decisions.