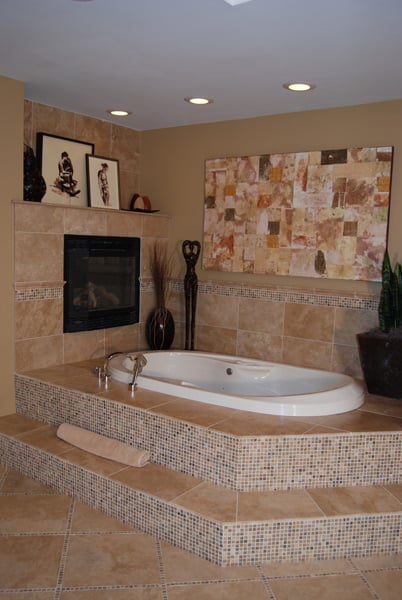 Choosing a whirlpool tub for your bathroom remodel is the ultimate way to create a spa-like space for über-relaxation. They're deep enough for two to soak and provide several therapeutic benefits. Plus, there are plenty of fun features that can take your bathing experience to the next level such as chromatherapy (via colored lights), aromatherapy and music.
Here are some recommendations and considerations when choosing a whirlpool tub for your Chicago bathroom remodel.
Choose the right tub for the space. All too often, our customers come in glowing with excitement; they've just purchased their dream whirlpool tub and are ready to design a luxurious bathroom interior to go with it. This is the wrong way to go about it and can result in a tub that doesn't really work with your space, which leads to extra expense, stress and disappointment. Once whirlpool tubs are on your dream radar, consult with a bathroom design/build professional who can take a look at your bathroom and let you know which models, sizes and/or shapes will work best.
What are your plans for the tub? Tubs come in a wide range of options so you want to find the one that best complements how it will be used. If it's predominantly a place for you and your beloved to soak, get a two-seater. If you bathe every night, spend a little extra for the bells-and-whistles. If you only soak once in a while, get air jets rather than water jets to reduce the chances of mold/mildew growth.
Will it fit through the door? Bet you hadn't thought of this one; most clients are great at envisioning the tub in place but rarely think about how it gets there. If you have an older home, make sure your bathroom door measures at least 24-inches wide and that the door can accommodate the tub height as well. Is there a turn or angle involved? This also needs to be taken into consideration. Again, this is an area where professional consultations are beneficial because we can tell you whether or not the tub can gain access to the bathroom.
Consider the deck requirements. Typically, whirlpool tubs come in three basic sizes: 5-feet, 5.5-feet and 6-feet, but this isn't the only dimension you need to think about. The tubs are dropped into a deck, and this will take up additional room. You may find some demo work or reconfiguration of your current bathroom layout is necessary to install the tub you want.
Provide the adequate support. Ever gone hiking with an ample supply of water? It's heavy. Now consider your nice, big whirlpool tub full of water and one or more people. If you have wood joist construction, or are installing the tub on an upper-floor, odds are you will need additional support in the form of bracing to protect the structural integrity of your home.
Get the right whirlpool tub for your North Shore Bathroom the first time around. Contact Kitchens & Baths Unlimited to schedule a consultation.