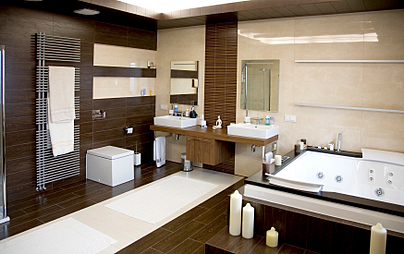 If you are undertaking a bathroom remodeling project, then you are probably already thinking about the basics. Have you considered, however, the numerous possibilities for other features that you could add to your bathroom renovation in Chicago? There are many options available for such renovation projects that are cost-effective and will leave you with a luxurious bathroom that is more comfortable and elegant than ever before.
Heating and Warmth for Your Luxury Bathroom Renovation
Consider, for example, a number of different options that could vastly improve the comfort of your bathroom with heat. Upgrading your bathroom with a
heated floor
will provide just the right amount of heat under your feet, so that when you step out of your hot shower, you will step right back into the warmth of your bathroom. For even more warmth and comfort, consider adding heat to the shower itself. There are a number of options for this. If you have a shower seat to make your bathroom accessible for people with limited mobility or simply like to enjoy a nice steam, a wonderful addition to your shower could be a heated shower seat and even a heated back wall for your bathroom renovation in Chicago.
For an even more luxurious bathroom experience, consider having your towels warmed before you step out of the shower. This can take the shape of a
towel bar
or rack that not only provides warmth but will also help your towels dry more efficiently, or even a drawer with a warming function.
New Shower Fixtures
For the ultimate experience in relieving stress after a long day at work, consider the
implementation of a steam shower
for your luxury bathroom renovation. You can even include a number of other fixtures for the full spa experience, right in your own home bathroom. Consider installing a waterproof MP3 dock so that you can play some relaxing music while you decompress, or even a brand new lighting system to do away with harsh fluorescent lighting once and for all. A
rain shower
could also be a wonderful addition to your bathroom that is both luxurious and functional. You could even install a pump for added aromatherapy.
Some Final Considerations for Your Luxury Bathroom Renovation
Treat yourself with a bathroom experience so luxurious that you will never want to leave. Install a
television behind the bathroom mirror
so that you can relax and catch up on the latest show or game. For added warmth and comfort, heat up the ambience with an
electric fireplace
behind a glass barrier. As always, the project of your bathroom renovation in Chicago is of utmost importance to us at Kitchens & Baths Unlimited, so never hesitate to
contact us
for more ideas for luxury bathroom remodeling.