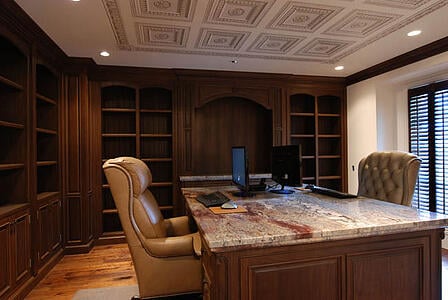 Recent trends have shown that more and more people are working from home these days. It is no wonder then that home remodeling projects for designing a home office space is on the rise as well. Over 70% of employees today would rather work from home, according to a Work At Home study. If you work from home or plan to in the future, you need to work somewhere that is actually conducive to getting work done, instead of simply letting work happen anywhere and everywhere within your home.
Designing a home office as your work-away-from-work is an excellent idea for homeward-bound employees. You'll have to make sure that you design your home office carefully. Here are our tips on designing a home office with productivity and accomplishment in mind.
Emphasize What Your Space is Actually For: Work
As with any home remodeling project, you have to plan according to what the space is going to be used for. More often than not, home offices are designed after the home is built. It's an afterthought, an addition carved out of a preexisting space. Even if you can't dedicate a space in your home strictly for office space, you can still make a home office that is purposefully designed for work.
Emphasizing productivity in home office design space means that you "streamline" the space to make it conducive to work. No excessive distractions, no cramming your work into your home entertainment system. Work spaces should be dedicated to housing only what you want and need to work with, and shouldn't be a catch-all for things that don't have a place anywhere else.
Don't Cram Everything Into One Place: Make Dedicated Work Spaces
Again, work spaces should actually encourage you to get work done. In order to do that, you have to separate spaces as functional places to get specific tasks done. If you need a computer, you'll have to make a desk that can accommodate a computer and all of the other electronics you'll need. If you have lots of filing you need to do, you'll need a space for administrative storage. If you often meet with clients and guests, a dedicated meeting space is a must. If you do creative work, a project table or an island is ideal.
Dedicated work spaces will help you divide home from work, and can keep you productive and happy. Not having a clear space for work that is separated from the rest of your life can potentially cause lots of unnecessary stress and strain on your lifestyle and your family matters.
If You Have Other Workers (Big or Little), Make Room For Everyone
The same principles of dedicated work space apply to children as well as adults. If you have school-aged children, or you'll have other family members or coworkers working out of your home office, make room for anyone and everyone. Children love "working" with their parents, whether they're doing homework or simply coloring and entertaining themselves. Additionally, having a dedicated place for homework and productivity teaches children the value of organization, and helps keeps homework woes down to a minimum.
Having enough seating and comfortable work stations for everyone in your home office will ensure that your operations will run smoothly, no matter what happens. Instead of simply managing the clutter of an entire business crammed into the corner of your home, you can focus on what really matters: growth, stability, and success.
No matter what your home office needs may be, our experienced remodeling designers can help you through every step of the process. Our custom cabinetry can re-purpose any room or corner into a beautiful productive home office space, and our design team will make sure that your home office is designed with productivity in mind.