As you plan your upcoming home remodeling plans, you might want to consider a room just for your children and start gathering some kids room design ideas. Having a dedicated room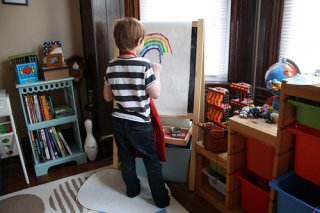 or space in the house for arts and crafts, computer use, and homework can be one of the best decisions you make for your home—and for your kids. They will remember their study or their crafts room as one of the most unique parts of their lives growing up, and it will help keep the homework battles to a minimum in the future.
Here are our tips on what needs to be installed in a room just for your children, whether it's going to be an area for work or for play.
Organization is Everything
Providing a space for your children to work and play in teaches them the valuable lesson of organization in action. You hardly have to teach them anything about being organized at all: when everything has its own place, organization will come naturally.
Craft rooms and homework rooms for children should always be equipped for organizing lots of little things. Many different shelves, cubbies, cabinets and nooks are great for holding years of collected craft pieces, materials, and odds and ends. Putting lots of storage within reach of younger children will help them get a head start on organizational skills.
Building a large table is always a plus in a children's activity room, as well. Having an open table near all of their favorite craft supplies will encourage them to be creative, without having to worry about messing something up or encroaching on the parents' space. Putting the home computer in this study space can also help them work, and creating a space just for using the computer will help them learn to focus on work, even when the internet tempts them with all sorts of distractions.
For Study Rooms, Emphasize Productivity
Having a dedicated study area for your children is a great idea, and it can help them succeed in school in the long run. The benefits of a dedicated study room are well documented. Many different studies have proven that a dedicated, organized study space can ensure your children better grades and scholastic performance. Just like planning a home office, creating a dedicated space for your children to study in requires a design that purposefully separates the room from the rest of the house in a way that encourages productivity.
You can simply convert a corner or preexisting area of your home to act as a children's study room—it doesn't necessarily need to be a complete addition. With that in mind, consider the location. The farther removed the study room is from the rest of their life at home, like loud entertainment centers, bedrooms filled with toys, and any other fun distractions, the more conducive the room or area will be to study.
Lighting and Atmosphere Can Improve Your Children's Creativity
Your choices of color scheme and designs can dramatically affect how your child works in their new study or craft room, and the more details and amenities you add, the more playful and creative the room becomes.
Choosing a playful, slightly muted color will make the room more appealing to children, without being so much of a distraction that it causes problems. Lighting can affect a child's level of alertness while they study: children often prefer brighter lighting when solving math problems, and dim lighting when working on an essay and other creative work. A simple dimmer switch to let your children control the light levels is a great addition.
Children like to listen to music and may sometimes have audio they need to listen to for study materials, so a small sound system built directly into the walls of their study room is another innovative idea. Encouraging creativity by playing classical music is a great idea for early development. Eventually, they'll want to play their own music—loudly, and all the time. Give them a place where they feel like they can enjoy their own music in peace, and everyone will be happy.
There are many kids room design ideas you can incorporate into a functional children's room that makes it both entertaining and productive. Your kids will love having their own room just for studying and creative projects, and you'll love the peace of mind of having every project—and every mess—contained in its own section of your home. As your children grow and mature, so can their study room.
Later on, when you've finally got an empty nest all to yourself, the extra study room can become a space for your own creativity to flourish, or it can be remade to accommodate any other luxurious ideas you might have in mind. Our custom renovation experts can help you turn your ideas into a reality, and we can even help you design a space that will be easy to repurpose and reuse over its long, productive life.