Kitchens are often considered one of the most important areas of a home. Besides the living room and master bedroom, there aren't many other places you will spend a great deal of your time. A kitchen isn't just about making food; it's a place where people tend to congregate. So if your considering doing a complete kitchen remodel, it's good to keep in mind that the quality of your kitchen cabinets and it's design/layout is a reflection of you and your home. Pantries are one of the many aspects to take into consideration when planning the layout of your new kitchen. Here are a few ideas on creating an organized space for a pantry.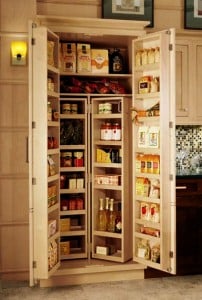 Variety in Pantry Space
With the right kitchen cabinets, you can easily make up for not having a large walk-in pantry. In fact, custom pantries combined with well-designed kitchen cabinets usually look much better in a kitchen than in a walk-in area off to the side.
There are plenty of tall utility cabinets available on the market today. Some of the options for interiors of these pantry-sized kitchen cabinets include roll out shelves, shelving for canned goods that swing out for easy access, and metal shelving that pulls out with the pantry door for extra storage. The style and design can be custom fit to match any home and improve its aesthetic appearance.
Closet Pantries and Walk-In Pantries
Hiring an expert to help you with your kitchen cabinets is a good idea. In some homes and kitchens, closets are used as pantries. Oftentimes, well-designed closet-pantries come equipped with adjustable shelving to provide a variety of options while organizing your goods. Decorative closet doors (as opposed to a plain, boring door) can be fitted with glass inserts or have intricate panel styles to match an equally impressive kitchen area.
Building or remodeling a walk-in pantry with the latest designs and materials is a great option for your kitchen. Often combined with larger kitchens, walk-in pantries are a luxury for kitchen lovers. Well-designed walk-in pantries can be fitted with kitchen cabinets and other storage areas to make the pantry easy to physically access, as well as easy to visually assess its contents. Possibilities include adjustable shelving, pullouts, drawers, and specially designed spaces for brooms and other tall items like appliances.
Don't let your kitchen be incomplete with a less-than-exemplary pantry. Pantries should help you get work done in the kitchen more easily, and they should not be, on the other hand, an eye sore and an unorganized storage area. If you're looking for kitchen remodeling in the Chicago area, our experts can help you get the pantry you've always dreamed of and much more!