Last time, we talked about the kinds of lights you can choose for your kitchen remodeling project. Today, we'd like to look further into the lighting questions we've received and talk about different types of light fixtures and bulb technologies available to you. When selecting under cabinet lighting fixtures, you'll want something that is easy to use, simple to maintain, and consistent with the rest of your design choices.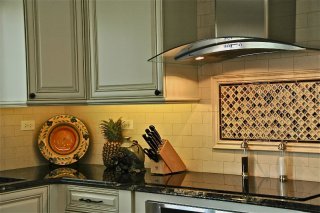 Under Cabinet Bulb Styles: Halogen, Fluorescent, and LED
Older under cabinet lighting solutions use long fluorescent tube bulbs fitted into a slim, low profile ballast. These are more traditional, and more commonly seen throughout kitchen spaces. Recent advances in compact fluorescent (CFL) bulbs and LED lighting technology have provided serious competition for halogen lighting, and your kitchen can benefit from it all.
Halogen bulbs and fixtures are a great selection for anyone looking for a familiar mainstay in lighting. They are more energy efficient now than ever before, and are easy to find in stores and replace on the rare occasion that one goes bad.
Fluorescent and CFL fixtures are newer, and largely similar to halogen bulbs in style and size. The technology used to produce light from CFL bulbs reduces the overall power use for each bulb, so you will save money in the long-term by switching to fluorescent. Fluorescent tube bulbs are available, and CFL bulbs are designed to work in standard incandescent bulb outlets as well, making them a cost-effective solution for traditional light fixtures.
LED light fixtures are some of the most technologically advanced under cabinet lighting solutions on the market. Because LEDs are so small and versatile, they are available in all styles of under cabinet lighting fixtures, as well as a variety of new and interesting design options. You can buy LED strip lighting, LED puck lighting, and even strips of tape as wide as a fingernail that contain dozens of LEDs. LED under cabinet lighting can also be dimmed, and in some special cases, even colored to give your kitchen a unique accent. If you want your kitchen to be on the cutting edge of design technology, LED under cabinet lighting is for you.
Strip Lighting or Puck Lighting?
Strip lighting includes fixtures that use long halogen and fluorescent tube bulbs. These under cabinet fixtures feature bulbs that produce a consistent light across the entirety of a countertop or under cabinet space. These often must be installed directly into the cabinet, but there are some aftermarket solutions available. Strip lighting is an excellent task lighting choice that bathes wide spaces in consistent, visible light.
Puck lighting is a relatively new choice that takes inspiration from famous restaurants and gourmet dining. Puck lights are small, circular fixtures that cast a pool of light down on a space. These can range from high-end LED fixtures that are hard wired into your lighting system to "tap lights" that use their own individual battery for power. Puck lighting is an excellent solution for drawing attention to beautiful new appliances and creating dramatic, luxurious highlights throughout the room.
If you're not sure what kind of lighting your kitchen needs, our expert Chicago-based kitchen designers can step you through all the styles and under cabinet lighting solutions available to you. With our help and your good taste, your kitchen will be perfectly lit for years to come.