Bathroom Renovation | Deerfield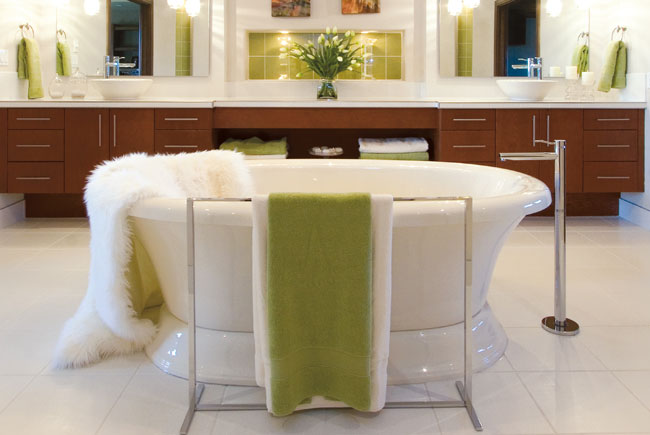 Project Summary:
Are you interested in a way to create a light and bright Deerfield bathroom renovation while still maintaining a feeling of warmth? It's entirely possible as this master bathroom design exemplifies. The contemporary bathroom has a clean, bright and relaxing feel and, although the majority of the finishes are white, there is nothing cold or sterile about it.
The warmth is introduced by the cabinetry, which also helps to anchor the large space. A less-is-more approach with fixtures and finishes helped to keep the finished look simple but classy. Finally, the live plants and green accents add a cheerful effect.
Cabinetry:
The bathroom has semi-custom KitchenCraft cabinets throughout with a frameless box construction to maintain the clean and unfettered aesthetic. The cabinet door style is called Summit, and it is a flat or slab door style with a cherry wood veneer. The finish on the cherry is called Nutmeg.
Countertops:
This bathroom features Quartz countertops in a solid white with a square edge detail and a 4-inch high backsplash. Quartz is an excellent choice for bathroom countertops, which are inundated with health and beauty products that can leave stains, oily rings, etc., on countertops with more porous surfaces such as marble or unsealed granite.
Notice that the makeup area is the same height of 31.5-inches versus the standard kitchen height of 34.5-inches. This convenient design detail makes getting ready much more comfortable because you can sit down on a comfortable stool rather than standing on your feet the whole time.
Flooring:
The floors were finished with 13x13 White porcelain tile laid square and in alignment. The tiles were made by Keraban and the color is Scala Bianco. Porcelain tiles are recommended for bathroom and laundry room floors because they're easy to keep clean.
Plumbing Fixtures:
The freestanding tub is from the Melinda series made by MFI. It's a nice deep soaking tub with clean lines but the shape is unique enough to provide visual interest. This model is 6'x3'x2' deep and has old world charm with an optional pedestal base. The polished chrome faucet is made by Gessi and complements the tub perfectly. The top lever lavatory faucets are also made by Gessi. His-and-hers porcelain vessel sinks add a decorative flair but still maintain the bathroom's contemporary design.
Contact Kitchens & Baths Unlimited to begin designing a contemporary bathroom renovation in your Deerfield home.